Educational Programs
Summer Institute: 
---
Programs Offered in 2018 
Yale's Interdisciplinary Center for Bioethics offers a number of educational programs throughout the year.   In the summer of 2018, we will offer two programs:
Foundations of Bioethics
This four-day program is scheduled for June 4-8, 2018, with an option to attend the June 9th visit to The Hastings Center.  Please click here to learn about program goals, schedule, registration, and payment.
We plan to offer this program during other times throughout the year - stay tuned for updates!
The Sherwin B. Nuland Summer Institute in Bioethics
This 7-week program is scheduled for June 1 through July 21st, 2018.  The 2018 Program Page lists seminars, lectures, and faculty.
****** Feb. 8th Update: ******
Yes, we are still accepting applications.  If you are interested in applying, please submit at least some materials (such as a transcript) soon.  You may also simply email Lori.Bruce@Yale.edu to let her know you intend to apply. This way, we'll be able to enter you into our application system.  Please see the "Application Process" section to know how to apply.
____________________________________________________________________________
The Sherwin B. Nuland Summer Institute in Bioethics
Why Attend?  ​
Now in its 13th year, Yale's Summer Institute in Bioethics is a unique and cherished program.  The Summer Institute is an intensive summer program for U.S. and international graduate students and professionals (with a select number of undergraduates) from varying disciplines. The program offers approximately 150-200 contact hours (depending on student preference).
Our impressive faculty infuse the program with their enthusiasm, energy, and expertise, presenting lectures and seminars on a wide range of topics including gene editing, "a good death,"   environmental ethics and social justice, OneHealth, and patient-centered clinical ethics.    
This program is unparalleled in terms of:
The breadth, depth, and quality of bioethics topics discussed in lectures and seminars;
The faculty-to-participant ratio (our faculty nearly outnumber our participants);
The enthusiasm of our faculty;
The amount of personal growth one may experience when interacting with people from over 25 countries, from all continents across the globe.
Recent participants say:
"This is a program like none other!"
"These were the best two months of my life!"
"This was simply the best investment to help me fine-tune my career choices."
"The diversity of participants and faculty made this summer simply unforgettable."
Attendees
The program is attended by those who wish to:
Understand how they can use bioethics (or bioethical arguments) in their current careers;
Further define their interests in bioethics before or after acquiring a Masters in Bioethics;
Expand bioethics in their home country;
See if a career in bioethics is right for them;
Develop deeper knowledge in bioethics to supplement their current career or studies, often within law, medicine, public health, philosophy, and other disciplines.
Would you like to speak to a recent alum to learn more about the program and how it may benefit you? Contact Lori.Bruce@Yale.edu (Program Director) and we will connect you.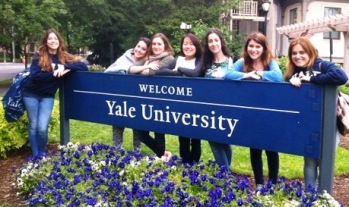 Back to top
Scope and Schedule
The full program offers approximately 150-200 contact hours (depending on student preference).
2018 Program
The 2018 Program Page lists seminars, lectures, faculty, and more.
Lectures & Seminars
In the mornings, all participants will attend a bioethics lecture by a Yale scholar followed by a question-and-answer session. 
From Monday through Thursday, afternoons are comprised of small-group seminars on special topics. 
Friday Mornings
Friday mornings will focus on methods and arguments in bioethics as well as professional development. Lectures on methods will help students develop skills in critical analysis.  Lectures in professional development support students as they develop their summer portfolio (see below).
Friday mornings will also include small-group meetings with faculty during which students will practice their skills and receive feedback on their portfolio.
Friday Afternoons
Some Friday afternoons will consist of optional small-group events, such as special guided tours of local Yale collections with bioethics themes (we may include the Beineke, the Medical Historical Library at the School of Medicine, The Cushing Brain Collection, and The Yale Art Gallery, for instance).  Participants are not required to attend these events, and may choose to take these afternoons off to travel or relax.
Other Friday afternoons will be required, such as our trip to the esteemed Hastings Center and our visit to The Connecticut Hospice (the nation's first hospice). 
Evening Hours: Networking with Faculty & Students
A few evenings per week will include optional events such as bioethics movie nights when participants will have the opportunity to informally engage with faculty while watching popular films that touch upon bioethics issues.
The Banquet
The last day of the program will be the annual Summer Institute banquet which will celebrate our participants' accomplishments and welcome them to our Alumni Association.  Alumni from past years often attend this festive event to meet and welcome the new class.
Student Portfolio 
During the program, students will research and write a paper (6-10 pages, double-spaced) on a selected topic in bioethics, and summarize that paper in the formal poster format used at national biomedical, bioethics, and medical conferences.
Students will be supported through the process and will attend lectures including: "how to write an abstract;" "how to create a poster;" and "effective writing tips and strategies."
During the last week of the program, participants will present their posters at the Yale School of Medicine.  Faculty from both Yale campuses will attend to discuss posters with their presenters (We will soon post a selection of 2017 student posters here).
Credits for Participation
While we do not offer Yale credit (to keep the price low), we do work with your sponsoring institution so that you can receive credit from them.   Undergraduate and graduate students typically receive 2 course credits.  We work with your school to provide whatever support they need.   We also provide a PDF at the end of the program that defines the exact number of contact hours earned, along with a list of all seminars attended and an overall evaluation ("Meets Expectations," "Exceeds Expectations," or "Did Not Meet Expectations). 
Housing Options
Some students choose to live in Yale housing, and others choose to sublet from Yale graduate students who are away for the summer months.  Many students choose to live with their Summer Institute classmates. Professionals who attend the program tend to find their housing either on the sublet list or via Sabbatical Homes. We provide a list of sublets and connect you to your Summer Institute classmates so that you can make the decision that is best for you.
International Students
You are responsible for obtaining a visa, and we encourage you to begin the process early. Your acceptance letter will help you begin the visa application process.  You may also wish to visit the website for the Yale Office of International Students & Scholars.
Application Process & Fees
Details on the application process, funding opportunities, program fees, and deadlines are available here.
---
 Programs by Year
Details on programs and participants are available in the links below. 
2018 Program; 2017 Program; 2016 Program; 2015 Program; 2014 Program; 
2013 Program; 2012 Program; 2011 Program; 
2010 Program; 2009 Program