Sherwin B. Nuland Summer Institute in Bioethics
2023 Summer Update from the Program Director
Summer Program Application Deadline:  March 20th, March 27th,  and April 8th, 2023
** We have rolling admissions, and will continue receiving applications until our class is full.  It is likely our class will be filled by mid-April, but please reach out to us if you feel you may need more time. bioethics@yale.edu **  
2023 Program Dates
The 2023 summer institute will have options for 4-day, 4-week, and 7-week programs - some will be in-person and others will be remote learning. Specifically:    
Our annual 4-day Foundations program will only be remote and will occur on June 5-8th, 2023.
Participants wishing to attend the in-person program must first attend the virtual Foundations then participate in onsite programs from June 12 - July 21st.  
A limited number of slots for clinicians/clinicians-in-training will be available for a 4-week in-person term from June 5-30th.
For those wishing to have a remote, several-weeks-long experience, we will likely offer a few seminars remotely.  We are currently finalizing these options and updates will be posted here.
Please read the materials below, and if you have questions, please do not hesitate to reach out!  We are delighted you have interest in our programs.
Cheers,
Lori Bruce
************
The annual Summer Institute in Bioethics is a unique and cherished program. In non-Covid years, our program is an intensive 7-week summer immersion for U.S. and international professionals and students from varying disciplines. The in-person program offers approximately 150-200 contact hours (depending on student preference); the online version has 4 weeks of content over 5 calendar weeks.
Recent participants say:
"The curriculum is simply unparalleled… this is a program like none other!"
"These were the best two months of my life!"
"This was simply the best investment to help me fine-tune my career choices."
"The diversity of participants and faculty made this summer truly unforgettable."
"This programme is truly incredible!" 
Images
View images from recent years to learn a bit more about our program.
Curriculum
Our impressive faculty infuse the program with their enthusiasm, energy, and expertise, presenting lectures and seminars on a wide range of topics including gene editing, "a good death," environmental ethics, social justice, bioethics for policymaking, OneHealth, and patient-centered clinical ethics. 
This program is distinct in terms of:
The breadth, depth, and quality of bioethics topics discussed in lectures and seminars;
The faculty-to-participant ratio (our faculty nearly outnumber our participants);
The enthusiasm of our faculty;
The amount of personal growth one may experience when interacting with people from over 25 countries, from all continents across the globe.
Learning Objectives
The program is attended by those who wish to:
Understand how they can use bioethics (or bioethical arguments) in their current careers;
Further define their interests in bioethics before or after acquiring a Masters in Bioethics;
Expand bioethics in their home country;
See if a career in bioethics is right for them;
Develop deeper knowledge in bioethics to supplement their current career or studies, often within law, medicine, public health, philosophy, and other disciplines.
Participant Profiles
Our summer program is attended by U.S. and international professionals and graduate students (along with a select number of undergraduates). Participants from recent years are from China, Japan, Australia, Spain, France, Mexico, Brazil, South Africa, the U.S., Canada, and many other countries. Participants hail from many different institutions, including Yale, Columbia, William and Mary, MIT, Johns Hopkins, Harvard, UCLA, Williams College, The University of Virginia, Rutgers, University of Texas at Austin, Tufts, Case Western, Mount Sinai School of Medicine/Clarkson, Universidad Europea de Madrid, state schools, and many more.
Recent professionals who have attended the program include a biology professor from James Madison, attending physicians from Turkey, Japan, France, and the Czech Republic, attorneys and professors from Brazil, and so on. Recent students study philosophy, divinity, law, medicine, clinical social work, and public health (both graduate and undergraduate) from the US, France, Singapore, and more. 
Would you like to learn more about the program, or speak to a recent alum to learn more about the program and how it may benefit you? Contact Lori Bruce, Program Director, at bioethics@Yale.edu and we would be delighted to connect with you.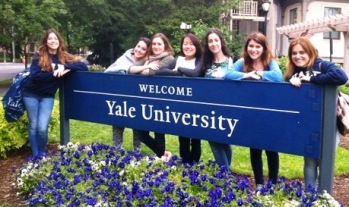 Submitting Your Application
Please visit this link to submit your application.
Scope and Schedule
The full in-person program offers approximately 150-200 contact hours (depending on student preference).
The Program Structure Page describes the main components of our in-person program.
Attendance Options
In non-Covid times, the majority of participants attend the full 7-week program. However, Summer Institute alumni have the option to return for one 3-week term, and clinicians or clinical students with limited schedules may be considered for Foundations and the first 3-week term.  
Want to learn about housing options for on-campus programming? Click here: Housing Options
Credits for Participation
While we do not offer Yale credit (to keep the price low), we do work with students' sponsoring institutions so that students can receive credit from them. This is dependent upon the students' university, but we do find that the vast majority of universities do provide this credit. Undergraduate and graduate students typically receive credits for one full course when they attend our full in-person 7-week program. Upon request, we provide a Program Summary at the end of the program that defines the exact number of contact hours earned, along with a list of all seminars attended and an overall evaluation.
Housing Options
During the in-person version of the program, some students choose to live in Yale dorms, and some choose to sublet from Yale graduate students who are away for the summer months. Some students choose to live with their Summer Institute classmates. Professionals who attend the program tend to find their housing via Sabbatical Homes.   Sublets are approximately $650-$2,000/month and Yale housing is approximately $53/night for a shared room and $80/night for a private room. Yale dorms do not have access to kitchens or other amenities; sublets are within houses or apartments and come furnished.  We cannot vouch for any subletting arrangements and encourage students to exercise judgement when sending funds or signing leases.
Application Process & Fees
View details on the application process, funding opportunities, program fees, and deadlines.
Programs by Year
Previous programs and participants are listed below:
2021 Virtual Program; 2020 Virtual Program; 2019 Program; 2018 Program; 2017 Program; 2016 Program;
2015 Program; 2014 Program; 2013 Program; 2012 Program; 2011 Program; 2010 Program; 2009 Program