Technology & Ethics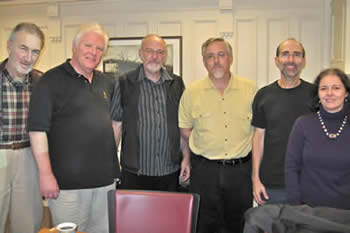 Chairperson:
Wendell Wallach, Lecturer, Yale College; Scholar, Bioethics Center
This group meets on Wednesdays at 4:30 at 115 Prospect St, room numbers are noted below.
To subscribe to the mailing list for this group, please visit  http://mailman.yale.edu/mailman/listinfo/techethics.
---
Schedule 2016-2017
Sept. 28 – Wednesday 4:30-6:30 PM
Speaker: Beth Simone Noveck, Florence Rogatz Visiting Clinical Professor of Law, Yale Law School
Topic:  "Crowdsourcing and Other Technological Disruptions to Governing"
Location:  Rosenkranz Hall, 115 Prospect Street (just beyond ISPS)
Room: RKZ08
October 19 – Wednesday 4:30-6:30 PM
Speaker: Joanna Bryson, Visiting Professor, Princeton Center for Information Technology Policy
Topic: "There Is No AI Ethics:  What Machine Prejudice Teaches Us About Ourselves"
Location:  Rosenkranz Hall, 115 Prospect Street (just beyond ISPS)
Room: RKZ05
November 30th – Wednesday 4:30-6:30 PM
Speaker: Bertram Malle, Professor, Dept of Cognitive, Linguistic, and Psychological Sciences, Brown University
Topic:  "What is "value alignment" between machine and human?  
Theory, data, and policy implications for social robots"
Location:  Rosenkranz Hall, 115 Prospect Street (just beyond ISPS)
Room: RKZ02
RSVP to wendell.wallach@yale.edu if you wish to attend.
---
The Technology and Ethics study group examines crucial societal, ethical, and public policy questions arising from the adoption of new technologies. Areas of interest include the benefits and ethical challenges posed by genomics, synthetic biology and artificial life, nanotechnology, neuropharmacology, neuroprosthetics and bionics, stem cell research, telemedicine, radical life extension, cryonics, information technology, virtual reality and augmented reality, ubiquitous and pervasive computing, and artificial intelligence.
The group has considered what defines being "human" or "intelligent"; moral responsibility for those who design, develop, and deploy new technologies; changes in how society will function under the impact of new technologies; risk assessment; the ramifications of bodily, mental, social, and physical enhancements; and whether computers and robots can be intelligent, show emotions, be conscious, be alive, or make moral decisions. Indeed, the Technology and Ethics working group was seminal in the development of the new field of research known as machine ethics.
The membership of the group is eclectic, and in addition to faculty and students at Yale, includes faculty and professionals from throughout the region. The group has served to enrich the expertise of members who have developed reputations as authorities in medical informatics, research ethics, machine ethics, and the ethical challenges of technologies that enhance human faculties. At least three courses taught at Yale have been inspired by the group, as well as a yearly seminar on Technology and Ethics for interns of the Interdisciplinary Center for Bioethics' internationally recognized summer program.
The Technology and Ethics study group was founded in the spring of 2002. In the fall of 2002 the study group began inviting speakers for an extended presentation and discussion with the group. Many of these speakers comment on how the opportunity has significantly deepened their understanding of the topics they are researching and of the social and ethical ramifications of their work.
Technology and Ethics Chair
Wendell Wallach
---
2013-2014 Schedule
2012-2013 Schedule
2011-2012 Schedule
2010-2011 Schedule
2009-2010 Schedule
2008-2009 Schedule