The 2012 Levine Lecture
The 2012 Robert J. Levine Lecture took place on April 11th.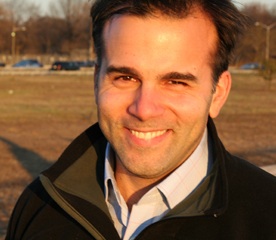 Angelo Volandes, M.D.
Faculty Member, General Medicine Unit, Massachusetts General Hospital
Assistant Professor of Medicine, Harvard Medical School, Cambridge, MA
Death Reimagined: Enhancing the Decision-Making of Patients with Video
Click here to view a video of this lecture.
Abstract: A key ingredient to informed patient-doctor discussions regarding end-of-life care includes the patient's ability to understand and imagine hypothetical disease states and medical interventions like CPR.  However, studies suggest that there are numerous barriers to communication between doctors and patients.  One innovation to surmount these barriers includes using video decision aids to reinforce end-of-life conversations.  Dr. Angelo E. Volandes leads a group of internationally recognized researchers who create and study video decision aids to empower patients and families to make informed decisions at the end-of-life. (www.ACPdecisions.org)
About the Speaker: Dr. Volandes is a faculty member in the General Medicine Unit at the Massachusetts General Hospital and Assistant Professor of Medicine at Harvard Medical School.  Dr. Volandes' research is focused on improving decision-making at the end-of-life and is supported by the Agency for Healthcare Research and Quality, the National Cancer Institute, the National Heart, Lung and Blood Institute, the Alzheimer's Association, and the Foundation for Informed Medical Decision Making. He received his BA in philosophy from Harvard College, his medical degree from the Yale School of Medicine, and a Masters of Public Health from the Harvard School of Public Health.  Following medical school, Dr. Volandes completed a residency in internal medicine at the University of Pennsylvania.  He then completed fellowships in medical ethics at Harvard Medical School and Brigham and Women's Hospital.  He was named the Edmond J. Safra Faculty Fellow in 2004-5 at the Harvard University Center for Ethics.