The 2008-2009 Farley Lecture
The 2008 Margaret Farley Lectureship took place on October 28th.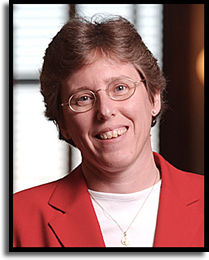 Maura A. Ryan
Associate Professor of Theology, Notre Dame University
Gender, Health and Armed Conflict:
Toward an Alternative Human Rights Approach
Abstract: The vulnerability of women to sexual violence under conditions of armed conflict has been widely identified as a significant human rights concern. In the last decade, gender-based violence (e.g., the systematic and strategic rape of women) has ceased to be treated simply as a matter of "collateral damage." Although efforts to prevent and punish gender-based violence lag far behind realities, forms of sexual violence such as rape, sexual slavery, enforced prostitution, forced pregnancy, and enforced sterilization, are now explicitly named as war crimes. Less well recognized are the multiple ways in which conditions of armed conflict pose disproportionate threats to women's health, sometimes long after the conflict has ceased. Drawing on epidemiological studies conducted in Iraq and Afghanistan, this lecture examines the intersection of gender, health, and armed conflict as a largely unexplored issue for contemporary Christian bioethics. In addition, it uses the impact of political instability and violence on women's health as a context for illustrating the importance of bringing contemporary bioethics into conversation not only with human rights discourses but also contemporary development theory. Only an ethical framework that recognizes the social, economic, and political basis of health and takes full account of the structural relationships that impair health and diminish human agency, particularly for the most vulnerable groups, will adequately address the conditions which account for women's differential vulnerability under war.
About the Speaker: Ryan's primary interests are in the areas of bioethics and health policy, feminist ethics, and fundamental moral theology. She co-edited a book on global stewardship with Todd David Whitmore in 1997 and her Ethics and Economics of Assisted Reproduction: The Cost of Longing was published by Georgetown Press in 2001. A co-edited volume A Just and True Love: Feminism at the Frontiers of Theological Ethics (Essays in Honor of Margaret A. Farley) was published by the University of Notre Dame Press in 2007. Her current book, Health, Development and Human Rights: New Directions for Christian Bioethics will be published by Georgetown Press. Her articles have appeared in Theological Studies, the Hastings Center Report, Health Progress, The Journal of Philosophy and Medicine and Ethics and Behavior. She has served on the Board of Directors for the Society of Christian Ethics, the editorial board of the Religious Studies Review, the St. Joseph County Healthcare Advisory Consortium and the ethics committee for Hospice of St. Joseph County. Ryan served as Associate Provost at Notre Dame from 2001-2004 and currently serves as Associate Dean for Faculty Affairs in the College of Arts and Letters.